TPC lawsuits begin in Orange courtroom
TPC lawsuits begin in Orange courtroom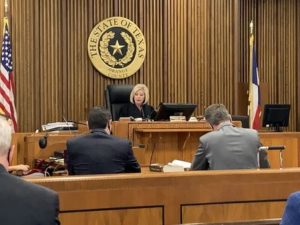 The nearly year-ago explosion at the TPC Group's chemical plant in Port Neches that blew out windows, front doors, brought ceilings tumbling down in hundreds of homes and ruined Thanksgiving weekend for thousands was mostly a Jefferson County event.
But don't' tell that to 128th District Court Judge Courtney Arkeen.
Her office is overseeing the hundreds of lawsuits against the owners of the 1940s rubber plant that produced more than 900 million pounds of butadiene and raffinate each year to build automobile tires.
Nearly two dozen legal eagles from Beaumont and surrounds were socially distancing in Arkeen's courtroom in early November for the first of what will be monthly meetings with those who represent the plaintiffs or the defendants.
TPC Group is expected to be joined as a defendant by subcontractors.
"The way this works is I rule on all the pre-trial motions and get the cases ready for trial," Arkeen said. "Once a case is ready for trial, it gets sent back to the originating court in Jefferson County. They'll try those whenever they get ready.
"We are going to meet once a month to keep them rolling."
Arkeen has been tapped to oversee an MDL, multidistrict litigation, which is a special federal legal procedure designed to speed up the process of handling complex cases. Cases arising from the same incident are consolidated so the rulings will be consistent, then split back up to be heard.
"Orange has never had an MDL court before, so this is a first."
The Texas Supreme Court, seeking a nearby and neutral court close to the cases' jurisdiction, chose Arkeen.
An honor, to be sure. But a huge responsibility, too.
"It's quite time-consuming, but I'm certainly ready to tackle the legal challengem," the judge said. "But they give you no additional staff or funding. So this is something my one coordinator [Latouia DuBois] and I, along with our District Clerk [Vickie Edgerly] are making happen."
Arkeen said there were 530 plaintiffs suing for damages when she started on the trial.
"I believe Brent Coon has another 1,000 signed up, and that Chip Ferguson has another 1,000," she said, mentioning two prominent Beaumont person injury attorneys.
"We believe we'll be adding third parties very quickly," Mark Sparks of the Ferguson Law Firm said during the monthly meeting, referring to additional lawsuit targets.
The good news is the judge didn't need another office to handle the paperwork. Orange County's District Clerk and its court run on electronic documents.
Arkeen's office keeps the master file for the cases with all the pleadings and attorneys can instantly find the information they need online. Each person that has a claim has an individual court file.
"This has been a lot to learn, because we've never had this before. We've been visiting with an MDL judge from Houston, Sylvia Matthews, about how to set it up. It's mainly an organization deal. You just have to get it real organized and make sure you have good processes in place on how to file things.
"It's a lot to keep up with."
Arkeen's courtroom is no stranger to big cases. Her predecessor, Judge Pat Clark, tried landmark asbestos cases in Orange with total awards in the billions of dollars.
"This court also had the asbestos docket, the silicosis and the benzene," Arkeen says, talking about some huge liability cases, "and those have gone on for years.
"I would suspect this will take a couple of years to resolve all of them."
TPC lawsuits begin in Orange Courtroom. The Record. Dave Rogers. 
Personal Injury Cases: How Much Are They Worth?
One of the first question clients ask our Beaumont personal injury attorneys is how much their case is worth. We understand why this is. As much as people say they sue somebody because they want justice, the truth is that they want the defendant to pay. If a third party did something to harm you,…
TPC GROUP FILES FOR BANKRUPTCY AS LAW SUITS CONTINUE
TPC Group has filed for bankruptcy protection with the bankruptcy court in Delaware. TPC Group is a privately held entity, so little has been known publicly about their financial situation since the multiple explosions ripped through their Port Neches, Texas Butadiene plant the week of Thanksgiving 2019. Thousands of homeowners were subject to a mandatory…
Car Accident Lawyers: What's the Cost?
After getting into a car accident, you might want to file a claim as soon as possible to get compensation for your damages and injuries. Doing so will help you avoid any financial burden, and you can focus on recovering and getting back to your normal life. However, the pain and the discomfort might not…