Beaumont TX Car Accident Lawyer
After a car accident in Beaumont, you are likely left wondering how you're going to deal with the repercussions.  How will you handle all of the medical bills and car repairs while you are also unable to work? Fortunately, car accident victims may be able to obtain compensation for their damages. To learn more about how you can maximize your claim, contact one of the premier injury firms in America, Brent Coon & Associates. A Beaumont, TX car accident lawyer will provide you with a risk-free consultation, allowing you get answers to all of your questions and better understand what your claim may be worth.
At Brent Coon & Associates, we have handled numerous Beaumont, Texas car accident cases. Many of our clients call us right from the scene of the accidents. Others seek our assistance in the middle of the claim filing process. We do our best to help everyone and secure the best outcome in every situation. Research even suggests that by hiring an attorney, victims may potentially increase their settlement amounts by up to 300%.
If you were involved in a car accident in Beaumont, or throughout Texas, let our experts fight for you. Our lawyers have been recognized nationally, even appearing on programs like 60 Minutes, so you can rest assured that your legal defense team is top-notch. Call our office today at (409) 222-2722 to start the recovery process with Brent Coon & Associates by your side.
[toc]
How Much Does It Cost To Hire A Car Accident Lawyer In Texas?
Payment arrangement plans between lawyers and their clients are not uncommon, especially in cases that would most likely require litigation in resolving the dispute. It is well within a lawyer's right to work out payment arrangements, fully fitted with payment plans and schedules in exchange for his/her legal services.
Accident lawyers generally offer two major payment arrangements to their clients. The payment arrangement could either be a conventional fee arrangement, or a contingency fee arrangement.
Alternatively, lawyers can also make other kinds of arrangements with their clients, which are usually tailor-made to suit the needs of both parties.
Conventional Fee Arrangements
Traditionally, legal services offered by most law firms as well as lawyers are billed to clients exclusively on an hourly basis. A conventional fee arrangement is a payment structure where the attorney is paid for their time working on the client's case.
This payment plan generally requires that the client pays for any expenses or costs incurred on the client's case as those expenses or costs arise. The conventional fee arrangement is based on a pay-as-you-go system. This is simple and uncomplicated for the lawyer, but often unpredictable for the client.
Contingency Fee Arrangements
More recently, contingency fee arrangements have become a preferred alternative to the traditional or conventional payment arrangements between lawyers and their clients.
The accident lawyers at Brent Coon & Associates provide legal services to their clients on a contingency fee basis; the contingency being that payment will not be required from the client unless the lawyer obtains a favorable resolution to the case, either through a settlement or a trial ruling.
Upon the successful resolution of the client's case, the lawyer is paid a portion of the client's settlement or trial award. Generally, contingency fee payments range from 33% to about 40% percent of the settlement or amount awarded.
Contingency fee arrangements provide clients with legal services at minimal cost and highly mitigated risk. The client doesn't pay from his/her personal income or savings. Instead, when the attorney gets paid (if he's paid at all), it will be from the recovery made as a direct result of his legal services.
This gives the lawyer the proper motivation to handle a case to the best of his ability while pursuing the best possible outcome. Upfront costs and expenses covered by the attorney in developing the client's case will be recovered from the settlement or trial award. This has nothing to do with the percentage due him in legal fees.
Why Do I Need an Attorney?
"Is it important to hire an attorney after a car accident?" This is arguably the most re-occurring question posed by potential clients. Generally, it is advisable, crucial even, to get attorney representation after a car accident. However, some circumstances where attorney representation might probably be unlikely is where property alone is damaged in a vehicle collision.
Where there is very negligible impact on your quality of life, and all required is the repair or outright replacement of the vehicle, then hiring a lawyer might be unnecessary as fine-tuning these details with the insurance company can be done by the individual easily.
Contrarily, when bodily harm is sustained in a vehicle accident, or it can be evidenced at a later date that you sustained injuries (though not visible or pronounced) at the time which directly diminished your quality of life, within the vicinity that is Texas, a Beaumont car accident attorney is required.
A personal injury claim stemming from a car accident has a higher chance of favorable resolution when a lawyer is involved.
In 2017, Martindale-Nolo embarked on a study where they requested data from a group of persons who had been parties in car accident cases.
The study indicated that the successful outcome of the majority of the claims was a direct consequence of attorney involvement.
Well over 90% of the claimants who contracted the assistance of an attorney were reported to have been awarded settlements or damages while just over 50% of injury victims who did not hire lawyers received a payout.
Also, the study further indicated that hiring an attorney directly influenced the settlements received by the claimants. Persons who contracted attorneys were paid an average of $77,600 from settlements and trial awards, while persons who sought settlement without attorney representation, were paid about $17,600.
How Can a Car Accident Lawyer Help My Case?
The reasons for these differences are not far-fetched. First of all, lawyers possess a unique skill for making connections and drawing logical patterns that enable them to point out how the injury sustained to their client has diminished their quality of life, and consequently extract the maximum monetary value from these injuries.
Evidence analysis is a key component in building an ironclad claim. This is a skill well understood by car accident lawyers as they seek to develop a case that establishes the defendant's lack of reasonable care given the evidence on the ground.
Hiring an experienced Beaumont TX attorney makes it more likely that a car injury claim can be settled at quite a high amount as a result of good negotiation skills.
A competent lawyer would advise his client against settling for the first offer because it almost always does not reflect the true value of his client's claim.
Negotiation is, therefore, an adequate tool a lawyer uses in increasing the final payout. Study reports show that personal injury claimants who held out for improved offers were paid well in excess of $40,000 while those who did not average about $11,800 in settlements.
The threat of a lawsuit also goes a long way in increasing possible payout in a car accident claim. Defaulting parties are compliant with paying more where there is a very real threat of a trial, especially where negative publicity will do them more harm than good.
Benefits of Working With an Auto Accident Attorney
Working with a car wreck attorney brings about numerous benefits. Here are the most important:
Relevant experience and excellent knowledge of Texas laws
No worries regarding paperwork and formalities
Help gathering evidence and supporting the car accident claim
Fewer hassles and important time savings
More money received as compensation
The list could continue, but the message should be obvious. Car accident claims are better left to experienced lawyers. If you were involved in a car accident and you have not yet consulted a Beaumont, Texas auto accident attorney, you should. You will enjoy all the above benefits and more.
What Should I Do After My Car Accident in Beaumont, Texas?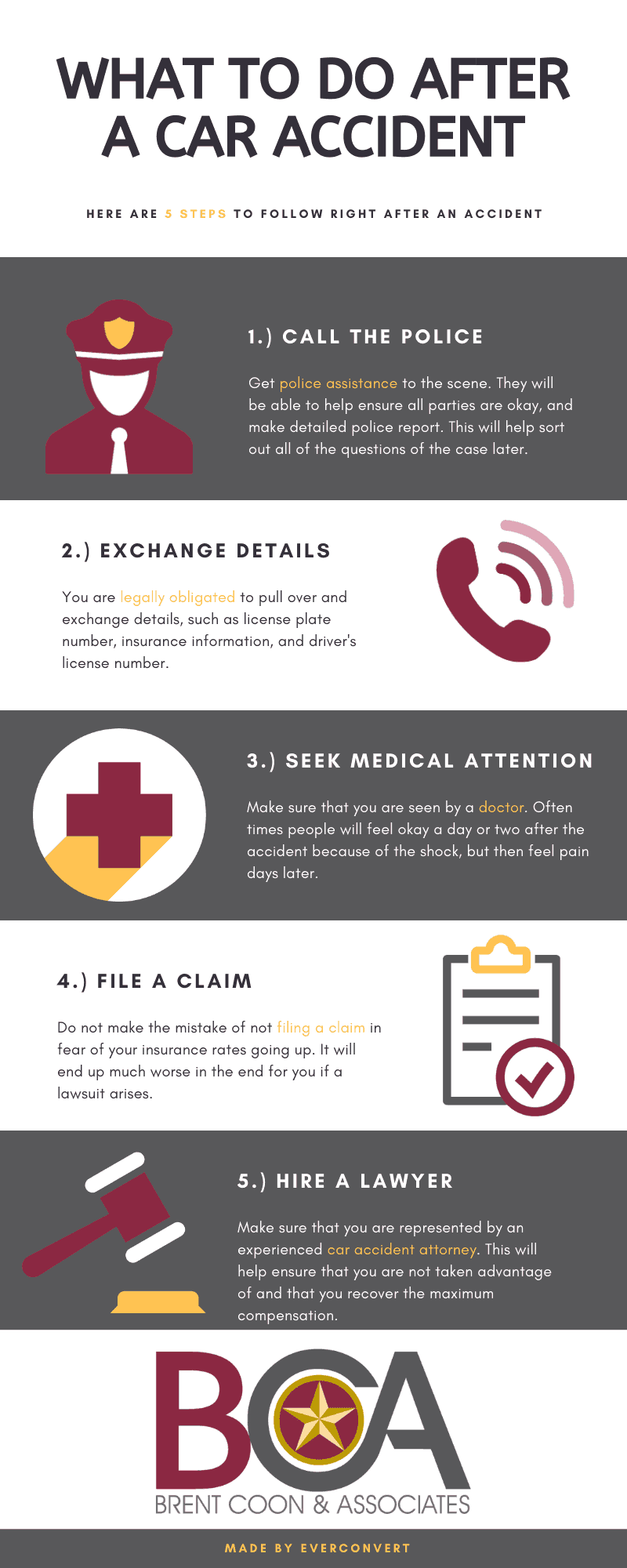 Where you have not suffered injury from an automobile crash before, you might be unaware of certain key steps you should take to avoid being taken advantage of by the other party or their insurance company. Ensuring your safety as well as the integrity of any potential case should be a priority. Consequently, scores of people usually ask the following questions:
Should I Collect Some Information After my Car Accident?
It is in your best interest to collate relevant information from the scene of your car accident. Information such as the names and contact of any witness (es), the police officer's name as well as crash report number (where the police are involved) should be collected.
Photographs and video recordings of the vehicles and accident scene would help your lawyer maximize your payout.
Where there is no doubt as to the fault of the other party, you should ask him or her to write out a statement or give you a recorded statement on the voice recorder on your phone expressly or implicitly stating such.
However, your first priority should be getting the medical attention you need even if this prevents you from getting the information listed above.
Should I Talk to the Insurance Company?
It is not advisable to speak with anyone at the insurance company. This includes but is not limited to their insurance adjusters and defense lawyers.
Insurance companies frequently record phone conversations during which they ask leading questions designed to produce testimony that they can use for avoiding liability in your case.
Referring all questions to your attorneys will help you avoid falling into traps that are designed to decrease the value of your claim.
What Happens When I am Partly Responsible for the Car Accident?
In Texas, damages in a personal injury claim arising from a car crash are awarded to the extent of the claimant's negligence. It is based on the theory that a person is first and foremost, the primary insurer of his car. Where he exhibits negligence of due or reasonable care towards his safety, to the point where his negligence outweighs that of the other party, he or she cannot successfully pursue full compensation.
A claimant only totally voids damages when the percentage rate of his negligence is held to be less than 50%.
Commonly, negligence is the life-blood of any personal injury case resulting from a car crash. Therefore, any discussion which makes a claimant liable should be avoided. In doing this, a claimant might unknowingly admit their liability, thus jeopardizing money to be received for settlement or trial awards.
An excellent example of this would be being broadsided by a vehicle operator who ignored a red light. While the other is apparently liable, statements like: "I was speeding," "I did not observe the flow of traffic," "I was on my phone," "I was drinking," and so on could make you liable.
Generally, insurance outfits have personnel who are skilled at coaxing incriminating statements that make the claimant liable in the event of a settlement or a lawsuit.
Contracting our lawyers ensures that all correspondence with the insurance outfit goes through us. Our lawyers carefully review the facts of our client's claim, protecting their interest at every phase of the case, including determining comparative negligence.
Who is Responsible for My Medical Expenses?
Medical bills can be paid through health insurance, Medicare, Medicaid, Personal Injury Protection insurance funds, deferred billing, and letters of protection.
Depending on all of the facts surrounding your case and the insurance companies involved, car accident attorneys produce a strategy that best benefits their clients.
Also, even if you do not have access to health insurance, a car accident lawyer can assist you with getting medical care that is paid at the end of the case – which means no upfront medical bills.
Will I Get Compensated for My Car Accident?
Evidence is essential to get top dollar for an injury case. This means there must be definite proof as to who was at fault, and that your suffering or injuries were a direct result of the accident. Police reports and witness statements go a long way in proving fault while detailed medical records from qualified doctors (many times orthopedics or neurologists) are used to show the cause and extent of the injuries. Attorneys will work to build a solid case to seek maximum compensation for your injuries.
Steps to Follow After an Accident and How a Beaumont TX Car Accident Attorney Can Help
Here are the steps everyone should take after a car accident:
1. Stop at the Accident Scene and Call 911 If Necessary
This obligation is subject to Section 550.021 of the Texas Transportation Code. Drivers involved in accidents throughout the state should stop at the scene or as close to it as possible. They should pay attention not to obstruct traffic. If necessary, they should request medical assistance.
Leaving the scene of a serious accident scene can qualify as a third-degree felony. The penalties go up to five years of jail time. The driver fleeing the scene may also have to pay a fine of up to $5,000. It is better to remain at the scene and contact a Beaumont car accident lawyer as soon as possible.
2. Report the Accident to the Authorities
Under Section 550.026, drivers should report accidents to the local police department or the sheriff's office. A call to the nearest department office will do as well.  It is mandatory to report accidents involving injuries or death.
Reporting the accident is mandatory when the vehicles involved are no longer safe to drive. In most cases, the police will come to the scene to investigate the accident. It helps to have a car accident lawyer in Beaumont, TX present when they do. This is especially true for those who share fault for the accident.
3. Gather Contact, Car, Insurance, and Drivers' Information
Drivers should exchange contact numbers, driver's license, and car registration, as well as insurance information. This information will make it easy to identify the parties and their insurer. It will also help the car accident attorney with the compensation claim.
4. Gather Evidence from the Accident Scene
In order to recover their losses, Texas claimants have to prove how the accident occurred. They also have to show that the defendant to their claim was responsible for the accident. This is done by using photos, videos, and witness testimonies that are gathered after the accident, on the scene.
When present, car wreck lawyers take care of this important step. In their absence, the accident victims will have to gather the evidence themselves. This can prove to be difficult for anyone injured or without a smartphone or camera on hand. Waiting to get important information from the other driver is dangerous, as witnesses may leave the scene and evidence may get lost.
5. Report the Accident to the Insurer
Drivers have to report accidents to their insurers and cooperate with the latter during the claim process. This is often required in most Texas car insurance policies. In some situations, accident victims have to seek compensation from their own insurer. It is better to collaborate from the beginning than knock on closed doors later.
6. Document Any Injuries, Damages, and Other Losses
In order to recover their losses, accident victims have to prove their value, such as car damage, medical expenses, pain and suffering, lost income and much more.
In order to cover such losses, the compensation claim will have to include justifying documents. Common examples include repair shop invoice, medical reports, and bills, income statements, etc. To estimate future losses, an auto accident attorney may use expert testimonies and case precedents.
7. File the Notice of Claim
This procedure announces the car accident's victim intention to seek compensation. It is possible to see compensation from the party at fault or from their insurer. To decide against whom to file the compensation claim, it is best to consult a car accident lawyer.
The latter will analyze the case and the financial situation of each party. Depending on their findings, they will recommend the best course of action. Obtaining compensation from a third-party involves a lengthy and troublesome court trial. That is why any Beaumont car accident attorney will recommend filing a claim with an insurer.
8. Document the Claim
This step involves putting together all the documents, evidence, and testimonies available. This will help determine if the defendant of the claim was responsible for the accident and will justify the amount requested as compensation.
An auto accident attorney will know exactly what documents to use for the claim and how to present them. The car accident Attorney will conduct their own investigation if necessary and will justify every cent requested.
9.  Negotiate Compensation Value and Terms
Most insurance companies prefer to settle claims outside of court. They make a settlement offer, usually for a lower amount than the claimant requested. By accepting a settlement, the claimant gives up all rights and demands.
It takes a skilled and experienced car accident attorney to evaluate settlement offers. Most attorneys start from there and negotiate even better deals. Claimants unsatisfied with the settlement offer they receive can file an appeal.
10. Receive Compensation
With the right lawyer on their side, the claimant should receive the due compensation. This is the stage when they pay their attorney fees and any outstanding bills. They can finally leave the accident behind and move on.
As shown above, these steps are easier to follow with the help of a car accident lawyer. The outcome of the compensation claim will depend on the claimant's ability to prove:
How the accident occurred (speeding, accident consumption, distracted driving, etc.)
Who was at fault for it (whose actions or negligence led to the accident)
What damages the accident caused (losses the claimant incurred and may incur)
These steps may appear to be easy, but it is not. It requires excellent knowledge of Texas accident laws in order to follow every step in detail.  Experience in claim preparation, filing, and negotiation matters as well is what sets a car accident Attorney apart from handling the claim on your own. Here is a brief overview of the main Texas accident laws:
Texas Car Accident Laws
Here are a few details every driver in Texas should know and pay attention to:
Minimum Insurance Requirements in Texas
All Texas drivers need liability coverage for bodily injury at a minimum of $30,000/person and $60,000/event. For property damage, the minimum coverage is if $25,000/event. In case of accidents caused by uninsured or underinsured drivers, victims have three options:
Seek compensation from the uninsured driver in civil court
Obtain compensation from their own insurer
Seek partial compensation from the insurer of the under-insured driver and sue the driver for the difference.
Before giving advice, an experienced car wreck Attorney will analyze the case details. They will look at the available coverage and at the available evidence. The sooner they take over the case, the more they can do for their client.
The Statute of Limitations for Texas Car Accident Claims
Time matters in Texas car accidents. Section 16.003 of the Civil Practice and Remedies Code only allows two years for car accident claims. The countdown begins at the date of the accident. Victims should not wait too long before contacting a car accident attorney because evidence can be lost or lose track of witnesses.
Comparative Negligence under Texas Laws
Texas is one of the states that have adopted "the 51% at fault rule". The parties who are 51% or more at fault for an accident can no longer seek compensation. The rule is subject to Section 33.0001 of the Civil Practice and Remedies Code. It basically forces claimants to prove that the defendant was more at fault than they were. Most claimants choose to work with an experienced auto accident attorney.
Is It Necessary to Hire an Auto Accident Lawyer in Beaumont TX?
The law does not force car accident victims to hire legal help. Therefore, each person has to make the most convenient decision for their particular case. When doing it, there are several important aspects to take into account:
The severity of the injuries and damages incurred. If the accident only caused soft tissue injuries, recovery will be fast and inexpensive. The accident victim could be able to gather evidence and negotiate the claim themselves. If the injuries are severe and require complex treatments, they become more difficult to prove and compensate. A case review from an experienced Beaumont car accident lawyer always helps.
The time elapsed from the accident date. Many accident victims postpone filing their claim until they fully recover or assess losses. This may not leave them enough time to gather the necessary evidence. It is better to start early than to wait and do everything against the clock. The car accident attorney will not mind waiting if it is in their client's best interest.
The available insurance coverage. When the party at fault is insured, accident victims may have a chance of obtaining compensation. In case of uninsured or under-insured motorists, the advice of a car accident lawyer in Beaumont, TX is priceless.
A case review is always useful. It helps accident victims find out how much their case is worth and what challenges to expect. They will also receive advice on how to approach their case. If they then decide to handle everything themselves, they are free to do so.
Schedule a Consultation with a Brent Coon & Associates Car Accident Lawyer Now!
Do you want an experienced, dedicated, and seasoned car accident lawyer on your side? Call (409) 222-2722 to schedule a consultation with a Brent Coon & Associates car accident lawyer in Beaumont, TX! You will receive answers to all your questions and advice on how to proceed with your Beaumont, TX car accident lawyer.
GET DIRECTIONS
Our Beaumont office is located on Orleans St in Beaumont, TX. It is situated between Liberty Ave and Broadway. Our office is located minutes away from Lamar University, Beaumont Botanical Gardens, Saint Anthony Cathedral Basilica Beaumont Civic Center, and I-10. We serve the Greater Beaumont Area including Bevil Oaks, Bridge City, China, Groves, Nederland, Nome, Orange, Pinehurst, Port Arthur, Port Neches, Taylor Landing and Vidor.
Coming from Groves, TX: Head southwest on 39th St toward Grant Ave and turn right onto E Parkway St. Make a slight left to merge onto TX-73 W and in 1.7 miles, take the exit onto US-287 N/US-69 N/US-96 N toward Beaumont. In 10.4 miles use the right two lanes to merge onto TX-380 Spur/S M L King Jr Pkwy toward Lamar University. Merge onto TX-380 Spur/S M L King Jr Pkwy and in 2.6 miles take the exit toward Park St/Pennsylvania Ave. Turn right onto Pennsylvania Ave and continue onto Orleans St. Make a slight right to stay on Orleans St and in 0.4 miles, Brent Coon & Associates will be on the right.
Coming from Nome, TX: Turn onto US-92 E from 3rd St and in 17.5 miles, use the left lane to turn left onto Interstate 10 Access Rd. In 0.2 miles use the left lane to stay on the Interstate 10 Access Rd and in 0.4 miles continue in the left lane to take the ramp onto I-10 E/US-287 N/US-69 N/US-96 N. Keep left at the fork in 0.8 miles to continue on I-10 E and follow the signs for US 90/Lake Charles. In 2.5 miles, take exit 855 A for US-90 W toward Downtown. In half a mile, continue onto US 90 W/Willow St and turn left onto Liberty Ave then make a sharp left onto Orleans St. Brent Coon & Associates will be on the right.
Coming from Pinehurst, TX: Head northwest on US-90 BUS E/Strickland Dr toward W Park Ave and use the left lane to take the ramp onto I-10 W. In 18 miles, take exit 855A for US 90 W toward Downtown. Continue onto US-90 W/Willow St. In 0.3 miles, turn left onto Liberty Ave then make a sharp left onto Orleans St and Brent Coon & Associates will be on the right.