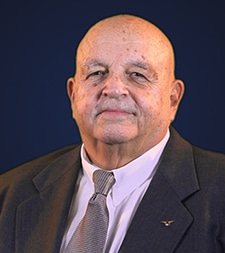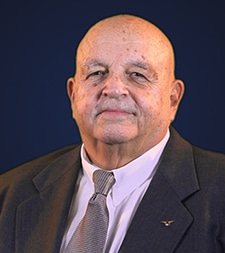 M.P. "Pappy" Papadakis is a world-renowned expert in the areas of aircraft accident investigation and reconstruction. He is an expert in the area of piloting of Airline Transport Jet category aircrafts and airline operations and procedures. He has been continuously active in the business as pilot and union safety representative for 31 years. Pappy attended the DOT Accident Investigation and Prevention course as well as the ALPA safety school and numerous safety seminars.
Pappy has worked in aviation and aviation law for 45 years. He is a former US Naval Aviator and a retired Delta Airline Capt. with over 45 years flying experience. As a graduate of University of Nebraska in Mechanical Engineering, he obtained a legal degree in 1975 and has been a licensed attorney at law in good standing with the State Bar of Texas since 1975.
From 1963-1969, Pappy served in the United States Navy as a Naval Aviator, Carrier Pilot, and Navy R&D Test Pilot. Pappy also worked as a Delta Airlines' Captain from 1970-2001.
Throughout his career, Pappy has evaluated, investigated, or litigated more than 400 aircraft accidents. He is a recognized expert in many facets including airline flying and operations, both domestically and internationally. Pappy has also logged 23,500 commercial or military flight hours without an accident.
Pappy is a qualified expert witness, speaking on issues relating to aviation safety, including: accident investigation, accident reconstruction, accident prevention measures, piloting procedures, CRM, Checklist adherence, MMEL procedures and related trouble shooting matters, aircraft systems and failure modes and effects, system safety and engineering principles, and TOWS systems in McDonnell Douglas and other Boeing aircraft.
Pappy literally wrote the book on aircraft accident investigation and reconstruction. His text, "Aircraft Accident Reconstruction and Litigation", is currently entering its 4th edition and remains a top selling book in its field. In 2000, Pappy also authored "Civil Trial Practice: Winning Techniques of Successful Trial Attorney's".
PAPADAKIS is ALLOWED TO CONSULT ON AVIATION CASES.
Should your firm have an aviation case you need evaluated or investigated you may feel free to utilize Pappys vast experience to help your client's case. Pappy has evaluated, investigated or helped litigate over 450 aviation accidents as a lawyer. In addition he was an air safety incident and accident investigator for Delta's Airline Pilots Association. He has over 2,000 experts in his aviation file. Pappy can work on your firms aviation case on a retained or contingent basis. One very significant benefit of utilizing Pappy in a consulting expert capacity is his work product entails both atty client privilege as well as work product privilege. If you have either a difficult or impossible case let Pappy consult with you before referring or rejecting it. Pappy will evaluate your case at no initial cost.