Brent Coon Named one of the Nation's Top 1% Attorney
Brent Coon Named one of the Nation's Top 1% Attorney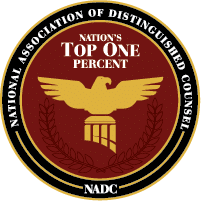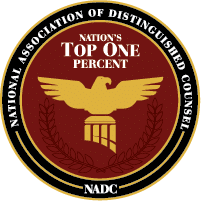 BCA Founder, Brent Coon was named by the National Association of Distinguished Counsel as one of the Nation's Top 1% Attorneys. Mr. Coon is honored to receive this prestiguous award. The award comes after a lengthy vetting process by NADC researchers. The information considered in this review process is sourced from publicly available information, including attorneys' websites, public profiles, client reviews, and case results. Specifically, the research team evaluates factors which include, but are not limited to the following: firm profile and reputation, years of practice, education, training, trial experience, case outcomes, peer endorsements, client reviews, professional awards, professional memberships, leadership in legal organizations, community involvement, disciplinary status, and other noteworthy achievements.
Mr. Coon has also been named as a Texas Super Lawyer. In 2007 he received the "Lawyer of the Year" award from the American Association of Justice.
Average Settlement for a Car Accident in Beaumont
If you have been injured in a car accident, you're probably wondering what kind of settlement you're entitled to. Ideally, the insurance company will take care of your injuries and medical bills. However, there's never a guarantee that the insurance will pay your claim. They may deny it for some reason. If this happens, it's…
Personal Injury Attorney: How Much Does One Cost?
One of the reasons a lot of people hold off on hiring a Beaumont personal injury attorney is because they're afraid it's expensive. After going through an accident, the last thing anybody wants to do is pay thousands of dollars to hire an attorney. The truth is, it doesn't cost you anything to hire one…
Car Accident Responsibilities: What Should You Do Right After?
Most people who are in a car accident don't know exactly what to do in the moments after the crash. It makes sense to call 911 but sometimes the other driver convinces them not to. Or they may think the accident was so minor that it doesn't make sense to call the police. The truth…