Brent Coon Named one of the Nation's Top 1% Attorney
Brent Coon Named one of the Nation's Top 1% Attorney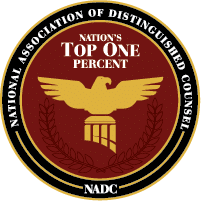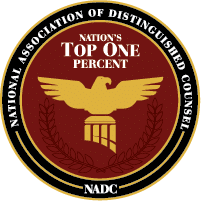 BCA Founder, Brent Coon was named by the National Association of Distinguished Counsel as one of the Nation's Top 1% Attorneys. Mr. Coon is honored to receive this prestiguous award. The award comes after a lengthy vetting process by NADC researchers. The information considered in this review process is sourced from publicly available information, including attorneys' websites, public profiles, client reviews, and case results. Specifically, the research team evaluates factors which include, but are not limited to the following: firm profile and reputation, years of practice, education, training, trial experience, case outcomes, peer endorsements, client reviews, professional awards, professional memberships, leadership in legal organizations, community involvement, disciplinary status, and other noteworthy achievements.
Mr. Coon has also been named as a Texas Super Lawyer. In 2007 he received the "Lawyer of the Year" award from the American Association of Justice.
Car Accident Lawyers: What's the Cost?
After getting into a car accident, you might want to file a claim as soon as possible to get compensation for your damages and injuries. Doing so will help you avoid any financial burden, and you can focus on recovering and getting back to your normal life. However, the pain and the discomfort might not…
Personal Injury Case: Definition
A personal injury case can be a powerful tool for justice. After suffering an injury due to someone else's negligence, medical bills could pile up, you may be unable to work, or you may not be able to enjoy your life as you once did. It might be time to file a personal injury claim.…
Lung Cancer Facts
Our Mission The attorneys at Brent Coon & Associates have dedicated our professional lives to helping the families affected by asbestos. Lawyers at BCA have seen many communities nationwide devastated by asbestos exposure that occurred on the job. A veteran of hundreds of jury trials, Brent Coon & Associates has obtained verdicts for many individuals…