Brent Coon Named one of the Nation's Top 1% Attorney
Brent Coon Named one of the Nation's Top 1% Attorney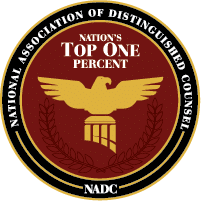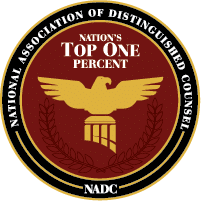 BCA Founder, Brent Coon was named by the National Association of Distinguished Counsel as one of the Nation's Top 1% Attorneys. Mr. Coon is honored to receive this prestiguous award. The award comes after a lengthy vetting process by NADC researchers. The information considered in this review process is sourced from publicly available information, including attorneys' websites, public profiles, client reviews, and case results. Specifically, the research team evaluates factors which include, but are not limited to the following: firm profile and reputation, years of practice, education, training, trial experience, case outcomes, peer endorsements, client reviews, professional awards, professional memberships, leadership in legal organizations, community involvement, disciplinary status, and other noteworthy achievements.
Mr. Coon has also been named as a Texas Super Lawyer. In 2007 he received the "Lawyer of the Year" award from the American Association of Justice.
What If My Accident Makes A Pre-Existing Condition Worse?
Accidents are an unfortunate part of life, and they can occur to anyone, anywhere. But what if a car accident makes a pre-existing condition worse? This is a common concern. The short answer is that you can pursue a personal injury case if an accident worsens a pre-existing injury or condition. If you've been hurt…
How Does a Car Accident Settlement Work?
If you've been involved in a car accident in Texas, it's important to understand the settlement process and timeline. This blog post will provide an overview of the key steps involved in getting a car accident settlement in Texas. Contact us today for a free consultation. Reporting a Car Accident in Texas Texas law requires…
What Is the Average Settlement for a Texas Car Crash?
Car accidents can be devastating, causing physical injuries, emotional distress, and financial burdens. If you've been involved in a car accident in Texas, you may wonder what the average settlement amount is and how you can secure the compensation you deserve.  While each case is unique, and the settlement amount will vary depending on several…