Brent Coon & Associates raises over $100,000 for Lone Survivor Foundation since 2014
Brent Coon & Associates raises over $100,000 for Lone Survivor Foundation since 2014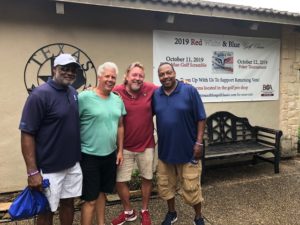 Pictured: NFL Greg Hill, Bret Romero LSF Board member, Brent Coon CEO/Founder of Brent Coon & Associates and Brentwood Entertainment Complex, and Dallas Cowboys' Kevin Smith.
October 28th 2019 – The final tallies are in and Southeast Texas once again rose to the occasion. Attorney Brent Coon, Founder/CEO of Brent Coon and Associates law firm hosted the sixth annual Red White & Blue Golf Tournament on October 11, 2019 at Brentwood Entertainment Complex. This benefit has raised over $100,000 for the Lone Survivor Foundation (2014-2019), an organization that "restores, empowers, and renews hope for our wounded service members and their families through health, wellness and therapeutic support" according to Lone Survivor Foundation's mission statement. The Crystal Beach facility is one of 14 Lone Survivor treatment facilities across the Nation that provides support to service members and their families.
Dozens of Southeast Texas businesses supported the tournament through monetary sponsorship's and donations.  Approximately 140 golfers participated in the tournament, including veterans in the Southeast Texas community. Spike Garcia, Director of Donor Relations for the Lone Survivor Foundation emphasized how honored he was to see so many volunteers and members of the community give of their time and resources to such a cause every year.
Pictured: Dale Enderlin, Director of Finance & Administration for LSF, Sheri Aldrich, Marketing Specialist for Brent Coon & Associates and Spike Garcia, Director of Donor Relations for LSF.
"The Lone Survivor Foundation  is grateful to Brent Coon & Associates for their continued support of LSF and its mission," stated Mr. Garcia, following the fifth annual Lone Survivor benefit in 2018.
Mr. Coon has made it a priority to support veterans through fundraising initiatives over the years, such as the Red White & Blue Golf Classic. "Our firm works year round to make this fundraiser an enjoyable and successful event. Nothing is more important than helping our military veterans with therapy and counseling when they come back from service to our country, particularly in times of war. Special thanks goes to our sponsors and our Red, White & Blue golf committee, which includes Brent Coon & Associates; Brenda Jenkins, Sheri Aldrich, Damon Garcia, Melissa Widner, and Lori Slocum as well as other board members including Richard Guseman, Guseman Enterprises; Patti Hulett, Gulf Coast Insurance; Dan Travis, Travis Brothers Building Automation; Josh Tubbs, Coca Cola; Darren Lehrmann, KFDM; Bridget Miller, Free FM 105.3, Sergeant Pat Barton, Stephanie Romero, and Bret Romero."
Each year Mr. Coon discovers new ways he and his staff at Brent Coon & Associates can support veterans through benefits and fundraisers. He opened his doors to the Brentwood Entertainment Complex for a second time that weekend on Saturday, October 12, 2019, in order to raise more money for the Lone Survivor Foundation through the second annual Lone Survivor Poker Tournament. "This inaugural event raised an additional $2,500 for the Lone Survivor Foundation. Special thanks goes to Richard Guseman of Guseman Enterprises for continuing this fundraiser every year" stated Mr. Coon.
The first annual Red White & Blue Poker Tournament kicked off at 12:00 p.m. and wrapped up at approximately midnight. Mr. Coon plans to expand the benefit every year to include more opportunities to raise money for the Lone Survivor Foundation.
A major highlight of this year's benefit was the appearance of sports celebrities. These men took time out of their schedules to drive in from out of town, participate in this benefit and mingle with the golfers and veterans at the tournament.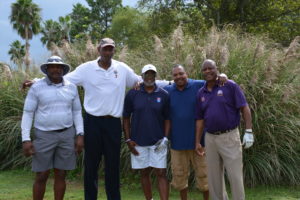 Pictured: Houston Oilers' Harold Bailey, Globetrotters' Robert "Baby Face" Paige, NFL running back Greg Hill, Dallas Cowboys' Kevin Smith, and Globetrotters' Reggie Dixon.
A silent auction was held at the Red White & Blue Golf Classic as well as the Poker Tournament. The silent auction items alone raised approximately $1,400 in addition to sponsorship's and door prizes.
Mr. Coon and his staff at Brent Coon & Associates will continue to support  veterans through initiatives such as these.
Personal Injury Cases in Texas: The Top Causes of Amputation
Severe injuries become life-altering for many people. Dealing with amputations is extremely challenging. Accepting the change, modifying lifestyle, paying medical bills, changing career options, all add up to your emotional distress. Many of the top causes of amputation result from avoidable injuries occurring due to another person's negligence. Traumatic amputation injuries are horrifying experiences. Whether…
Hit-and-Run Kills 74-Year Old Texas Motorcyclist
Sources report that a 19-year-old driving a 2017 model Mazda couldn't stop at the stop sign and crashed into a 74 years old Texas motorcyclist who lost his life later. The Texas Department of Public Safety is currently investigating a motorcyclist's fatal crash, which took place on Tuesday morning. The initial scrutiny stipulated that the…
What Is Loss of Consortium in a Texas Wrongful Death Lawsuit?
Loss of consortium isn't fully understood by many non-specialists. Losing a loved one is never easy. If you have experienced this situation, you will be well aware of the grief and pain associated with the incident. When the death was due to another person's negligence, you have the right to pursue the matter in court.…