Brent Coon awarded The National Trial Lawyers' "Top 100 Civil Plaintiff"
Brent Coon awarded The National Trial Lawyers' "Top 100 Civil Plaintiff"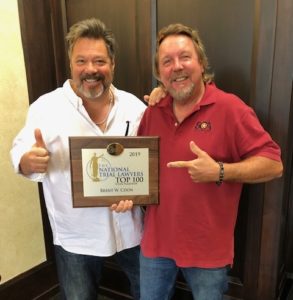 Brent Coon is proud to be named the 2019 National Trial Lawyers' "Top 100 Civil Plaintiff."
The National Trial Lawyers is a professional organization composed of the premier trial lawyers from across the country who exemplify superior qualifications as civil plaintiff or criminal defense trial lawyers. This national organization provides networking opportunities, advocacy training, and the highest quality educational programs for trial lawyers.
The National Trial Lawyers' mission is to promote excellence and foster diversity in the legal profession through advocacy training, networking and education of trial lawyers.
Personal Injury Attorney: How Much Does One Cost?
One of the reasons a lot of people hold off on hiring a Beaumont personal injury attorney is because they're afraid it's expensive. After going through an accident, the last thing anybody wants to do is pay thousands of dollars to hire an attorney. The truth is, it doesn't cost you anything to hire one…
Car Accident Responsibilities: What Should You Do Right After?
Most people who are in a car accident don't know exactly what to do in the moments after the crash. It makes sense to call 911 but sometimes the other driver convinces them not to. Or they may think the accident was so minor that it doesn't make sense to call the police. The truth…
Personal Injury Cases: How Much Are They Worth?
One of the first question clients ask our Beaumont personal injury attorneys is how much their case is worth. We understand why this is. As much as people say they sue somebody because they want justice, the truth is that they want the defendant to pay. If a third party did something to harm you,…