To our TPC Clients:
We wanted to provide several more additional updates now that the final TPC bankruptcy submission deadlines have finally expired.
What do the TPC deadlines mean and will we ever get paid anything?
The bankruptcy court in Delaware overseeing the bankruptcy approved a final dissolution plan that transferred what was left of the TPC entity with remaining operations over to their creditors, which were essentially the companies that TPC owed a billion dollars in loans to.  We also learned that prior to filing for bankruptcy protection, TTPC recovered many millions of dollars from their insurance carriers for business interruption and to replace damages to the plant. Decisions were made by TPC and/or their creditors to spend most of that money paying back notes owed on their loans and some reinvestment into the remaining plant still operating in Houston.
While we had retained highly qualified teams of bankruptcy counsel to help protect the interests of all TPC explosion victims, the companies who held the loans were "secured creditors" entitled to first monies back from all sources. Since the debt was larger than the value of the remaining assets of TPC, they transferred their ownership over, similar to getting a car repossessed by a bank for nonpayment of loan notes.
The legal team was able to cut a deal for $30 Million in cash to go to a special fund in the bankruptcy court to pay all of the unsecured claims, mostly from TPC explosion claimants.  This then resulted in the creation of a special "trust" overseen by the court trustee. He in turn set up a plan to evaluate all the claims, which is the project we have been working on the last two months since it was announced. It required all claimants to fill additional claim forms along with any and all supporting documentation of any loss.  We filed those before the deadline last Tuesday for all of clients who remitted the necessary paperwork back to us, which included our door to door campaign to assist many of you in the process.
Now the trustee will start evaluating the merits and values of all the claims and make final decisions over how much everyone gets out of that trust.  While every nickel means something, we are not optimistic that there will be a significant payment to each claimant, as there appear to be many hundreds of millions of dollars claimed in losses and only $30 million to pay them.  Regardless, some decision should be made by the end of the year for the trustee to make those determinations. He has not yet given a decision date, but we don't see where it would take much longer than that do quantify the vast majority of the cases he is looking at, which we understand is in the general range of 10,000 total.  Once those determinations are made it shouldn't take long to cut checks, so again we would probably be looking at some time next year. Again, all of this is best guesses.
What is going on with the rest of the lawsuit?
As explained a few times before our trial court overseeing the TPC case and the claims made against TPC, their investment/owner groups and other parties, such as Nalco (the company that made the blend that expanded and caused the pipes to rupture) are all still on hold. The investment groups had appealed to the Texas Supreme Court their liability issues and the bankruptcy stayed TPC.  Now that the Texas Supreme Court has ruled that we can still make an argument against the ownership/investment group, we are asking the trial court to let us proceed again. We should now something there in the next few weeks. We are cautiously optimistic that we will make further and more significant recoveries against those remaining parties. Again the time line is very uncertain but we would not likely be able to get to trial for at least another year.  The parties may be able to settle which could reduce that time line.
What is going on with the Department of Justice investigation into TPC?
The DOJ is conducting a criminal investigation into the explosion as a result of the report of the U.S. Chemical Hazards and Safety Board report.  We have been in touch with the DOJ representatives and look forward to providing some level of assistance to their investigation.   We were highly involved in working with the DOJ in the BP Texas City refinery explosions of 2005 and several other cases since then and hope that they will make some criminal charges out of their investigation as well.  The DOJ has been posting notices of this in the local newspapers and there is nothing else you need to do at this time in that regard.
These are the basic updates for the time being.  Again, one of the things we were very upset to find out in the TPC litigation is that they had all this additional insurance coverage and used it to add on to and repair their Houston plant and pay bank notes and not use any of it to pay claimants. We plan on a course of action to call more attention to our political branches about that and see if laws can be changed to reduce the ability of companies to do this in the future.
We will continue to keep you all informed of any additional developments.
Thanks and have a good day.
Brent Coon and Associates
URGENT NOTICE TO ALL TPC CLAIMANTS :
BANKRUPTCY DEADLINE FOR FILING FINAL DOCUMENTATION
First, we wanted to provide an urgent reminder of the DEADLINE to file your TPC bankruptcy claim information.  As mentioned before, we had a lot of responses from hundreds of our clients over the last two years in providing us with additional information on their losses, including property damage estimates, wage loss statements, medical bills, etc.  We have supplemented all of your claim forms with that information.  UNFORTUNATELY, we did not receive much, if any, documentation from several hundred other clients.  When the bankruptcy trustee announced what all was needed on each case a couple of months ago, and set a DEADLINE of August 01, 2023, we began sending out emails and text notices and letters to all of our clients requesting this information. For clients who had home damage but no estimates we even made contractors available to them to get those estimates in and several dozen of you responded and we have them now.  The last two weeks we even had a team of temporary associates go "door to door" to visit with clients at home and try to help complete this process. This again helped get over 100 additional claims completed.
That's the good news. The bad news is that we still have some clients who have not responded to our calls, texts, letters or door to door campaign, and time is running out. If you needed to HAND SIGN the medical form the trust required on medical claims, we left the packets at your last known address with instructions on how to complete and return to us. Several dozen of you have done so.  IF YOU HAVE NOT DONE THIS YET, THE DEADLINE IS TODAY FOR OUR FIRM TO FILE IT FOR YOU.   While we will continue to try and help people meet the final deadline set by the trust for AUGUST 01, 2023, we cannot guarantee last minute deadline compliance tomorrow and would encourage you to get it filed directly with the trust if you cannot make it by today.
We still have the door to door campaign running through today, and our office in Beaumont is still set up to take in last minute documentation support and signed medical forms today to upload to the trust. Again, our address for hand delivery to our office is 215 Orleans Street, Beaumont Texas.
We are located in the Kyle building and you can pull up the front door and drop them off any time before 5pm.
TPC Plant Explosion in Port Neches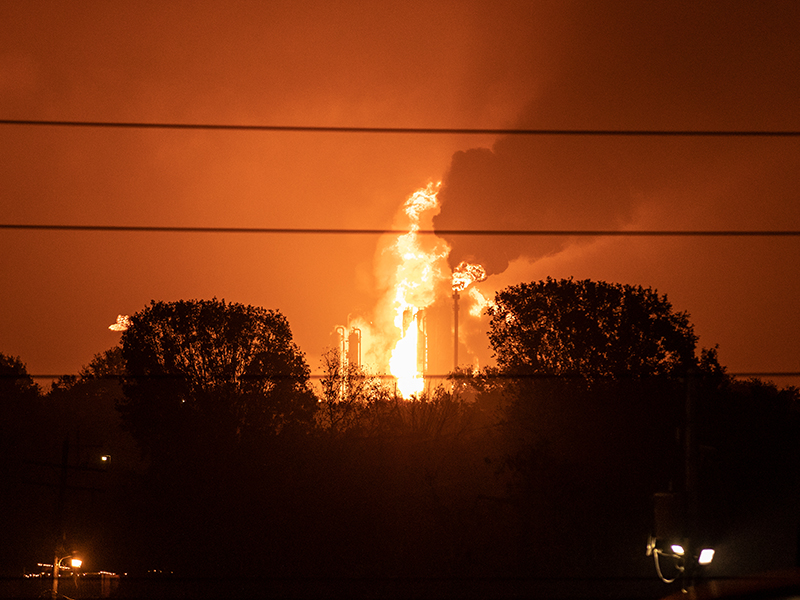 We Are Here To Help!
Brent Coon & Associates is working diligently for the people of Southeast Texas by representing those that were affected by the TPC explosion. Brent Coon & Associates filed a temporary restraining order on November 27, 2019 with the Jefferson County District Courthouse to preserve evidence while investigating the cause of the explosion. That order was extended on December 10, 2019 by Judge Mitch Templeton, Judge for the 172nd State District Court of Jefferson County, Texas. The extension allows lawyers representing residents in the area impacted time to request and examine equipment and documents and prohibits TPC from damaging or destroying any potential evidence related to the case. Brent Coon & Associates is currently taking all clients related to this incident. If you or someone you know has been affected by the TPC explosion, give us a call at 409-222-2222.
Property Damage
If you have experienced damage to your property due to the TPC explosion, call BCA today!
It is too early to see the extent of the damages to property following the explosion. If you file a claim with TPC themselves, they will require you to sign a release. This will ensure that you cannot take any legal action against TPC, which means that you cannot receive any more money if the damage on your property exceeds what they agree to pay you. Licensed inspectors need to assess the damage to your property before you sign documents that state you cannot take legal action against TPC. Protect yourself, protect your property, call an attorney.
PTSD
Symptoms may include nightmares or unwanted memories of the trauma, avoidance of situations that bring back memories of the trauma, heightened reactions, anxiety, or depressed mood. If you have been experiencing symptoms of PTSD following the explosion, our experienced team can assist you. Call BCA right now!
Loss Of Wages
If you have or will experience loss of wages due to the TPC explosion, you deserve compensation. Whether your place of employment was shut down temporarily, permanently or you were unable to make it to your place of employment due to the explosion, BCA can help you!
Business Interruption and Loss Of Revenue
If your business was affected by the TPC explosion, call BCA today! Whether your business was forced to shut down temporarily, permanently or you experienced a loss of revenue due to the explosion, BCA is here to help you!
Evacuation
If you were forced to evacuate due to the TPC explosion and incurred costs due to the mandatory evacuation, call BCA today!
Health Claims
If you have been experiencing health concerns due to the TPC Explosion, our personal injury lawyers can help. Call BCA today!
For more detailed information regarding the accident:
To learn more about how TPC was in violation with EPA standards:
Frequently Asked Questions