Brent Coon and Associates Holiday Toy and Food Drive
Brent Coon and Associates Holiday Toy and Food Drive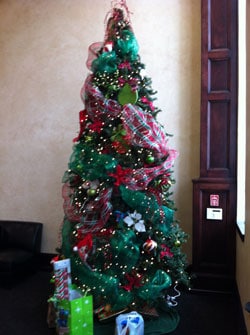 The Holiday Season is a time for giving. BCA has made Buckner's Toy Drive and the Beaumont Jaycees Christmas Shopping Tour (for underprivileged and special needs children) our target charities this year.
Our Angel Tree will be located in the lobby decorated with tags and the names of children with a wish list item. As always, the toy should be placed under the tree in Brent's section unwrapped with the original Buckner tag containing the child's name no later than Wednesday, December 18.
Also, this year we are adopting the Jaycees Christmas Shopping Tour. There are several corporate sponsorship levels. Let's see how many special children we can send on a Christmas shopping spree.
And don't forget to donate non perishable food items in the box in the lobby for Christmas dinner for families in need.
Share your blessings and make someone's Christmas special!
Thank you for your generosity!
Personal Injury Cases in Texas: The Top Causes of Amputation
Severe injuries become life-altering for many people. Dealing with amputations is extremely challenging. Accepting the change, modifying lifestyle, paying medical bills, changing career options, all add up to your emotional distress. Many of the top causes of amputation result from avoidable injuries occurring due to another person's negligence. Traumatic amputation injuries are horrifying experiences. Whether…
Hit-and-Run Kills 74-Year Old Texas Motorcyclist
Sources report that a 19-year-old driving a 2017 model Mazda couldn't stop at the stop sign and crashed into a 74 years old Texas motorcyclist who lost his life later. The Texas Department of Public Safety is currently investigating a motorcyclist's fatal crash, which took place on Tuesday morning. The initial scrutiny stipulated that the…
What Is Loss of Consortium in a Texas Wrongful Death Lawsuit?
Loss of consortium isn't fully understood by many non-specialists. Losing a loved one is never easy. If you have experienced this situation, you will be well aware of the grief and pain associated with the incident. When the death was due to another person's negligence, you have the right to pursue the matter in court.…