Whiplash After a Car Wreck: Is It Worth Seeking Compensation?
Whiplash After a Car Wreck: Is It Worth Seeking Compensation?
Whiplash is a common injury when the neck experiences a sudden, forceful back-and-forth motion. It often happens in car accidents, particularly rear-end collisions. When a vehicle is struck from behind, the impact can cause the head to jerk violently forward and snap backward, straining the muscles and ligaments in the neck.
If you have suffered whiplash, call a Beaumont car accident lawyer to discuss your legal options. We are here to help accident victims get the compensation they deserve.
What Are the Common Symptoms of Whiplash?
The most noticeable symptom of whiplash is neck pain, which may be accompanied by stiffness or difficulty moving the head. Other symptoms include headaches, dizziness, and shoulder or upper back pain.
In addition to physical symptoms, whiplash can also have psychological effects. Many people who experience whiplash report feeling anxious or depressed as a result of their injury. They may also have trouble sleeping or concentrating on tasks.
It's important to note that whiplash injuries aren't always immediately apparent after an accident. Symptoms can take hours or even days to manifest fully. This delayed onset makes it crucial for anyone involved in a car wreck to seek medical attention promptly after an accident – even if they don't initially feel pain or discomfort.
What Compensation Can Car Wreck Victims Seek for Whiplash?
You may be entitled to seek damages after being involved in a car wreck that results in whiplash. These damages can help cover the financial costs associated with your injury and compensate for the pain and suffering you have endured.
Medical expenses are one of the primary damages you can seek after a car wreck causing whiplash. This includes the cost of doctor's visits, diagnostic tests, physical therapy sessions, and any necessary medication or assistive devices.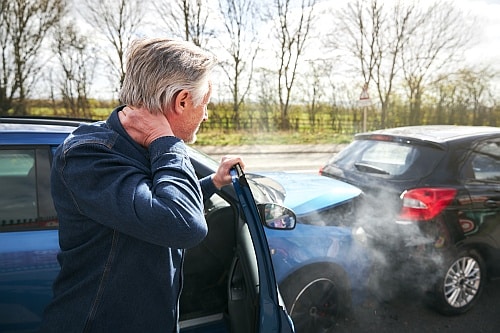 You may also be able to recover lost wages if your injuries prevent you from working. Whiplash can cause significant pain and limited mobility that hinders your ability to perform job duties. Seeking compensation for lost income is essential to help alleviate some of the financial burden caused by this accident.
It is important to consider non-economic damages such as pain and suffering. Whiplash can lead to chronic pain, emotional distress, loss of enjoyment of life, and other intangible effects that impact your overall well-being. Pursuing compensation for these non-financial losses acknowledges the extent of your suffering and aims to provide some level of justice.
What Steps Are Involved in a Car Accident Claim?
If you have suffered from whiplash after a car accident, you may be wondering what steps are involved in pursuing compensation for your injuries. Seeking compensation can help cover medical expenses, lost wages, and other damages resulting from the accident.
Here are the key steps to take if you've been in a car wreck.
Seek immediate medical attention: Your health should be your top priority. Make sure to see a doctor as soon as possible after the accident. Documenting your injuries and following their recommended treatment plan will strengthen your case.
Gather evidence: Collect all relevant evidence related to the accident and your injuries, such as police reports, witness statements, photographs of the scene or vehicle damage, and medical records or bills.
Consult a personal injury attorney: An experienced attorney specializing in car accidents and personal injury cases can guide you through the legal process. They will assess your case's strengths and weaknesses, negotiate with insurance companies on your behalf, and file a lawsuit if necessary.
Reach Out to a Beaumont, TX, Car Accident Lawyer
Insurance adjusters often try to minimize payouts or deny claims altogether. Your attorney will negotiate with the insurance company on your behalf for the compensation you deserve.
At Brent Coon and Associates, we are passionate about helping people injured in car accidents. Our Beaumont car accident lawyers will handle all aspects of your claim, from initial investigation to negotiation and litigation. Contact us today at (409) 222-2222 for a free consultation. We're here for you.